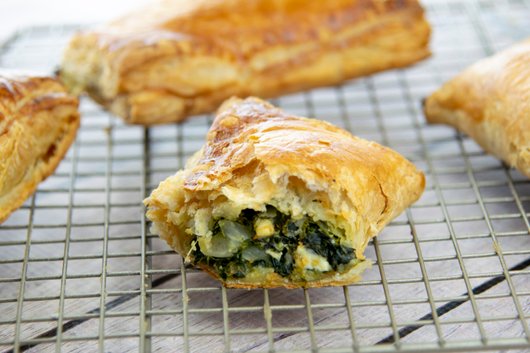 A Simple, Savory
Appetizer
Spanakopita Puffs
Recipe adapted from Milk Means More
1 package puff pastry sheets
1 tablespoon unsalted butter
1 small onion, diced
10 ounces frozen chopped spinach, thawed and drained
4 ounces light cream cheese, softened
2 eggs, divided
1/2 teaspoon salt
1/4 teaspoon black pepper
1/2 cup crumbled garlic and herb feta cheese
1 tablespoon cold water
Heat oven to 375 F.
Thaw folded pastries 15 minutes. Once thawed, unfold sheets to thaw out flat.
In large skillet over medium heat, melt butter. Add onions and saute 3-5 minutes, or until tender and translucent.
Stir spinach into softened onions. Continue cooking, stirring frequently, until water from spinach evaporates and spinach is mostly dry. Transfer spinach mixture to large bowl.
In small bowl, blend cream cheese with one egg, salt and pepper until smooth. Fold cream cheese mixture into spinach mixture to combine. Stir in feta cheese and set aside.
Line baking pans with parchment paper or silicone baking mats.
On floured surface, roll one sheet puff pastry out to 10-by-12-inch rectangle. Cut sheet in half lengthwise then again widthwise to form four 5-by-6-inch rectangles. Place rectangles on prepared baking sheets.
Place spoonful of filling onto center of each cut pastry. Whisk remaining egg with cold water to create egg wash. Lightly brush egg wash around perimeter edges of each pastry square.
Pick up short side of pastry and fold over filling toward other short side. Press edges to seal before crimping with fork. Repeat with remaining pastries.
Brush small amount of egg wash over top of each pastry. Cut small slits on top of each pastry to allow filling to vent steam while cooking.
Bake 25-30 minutes, or until pastries are evenly browned on top. Transfer pastries to wire rack. Cool 8-10 minutes before serving.
~ FamilyFeatures.com
For more appetizer ideas, visit Culinary.net.
If you want to impress your guests, try serving this puff pastry as an appetizer at your next gathering. This flaky pastry filled with a combination of spinach, onions and feta cheese can keep them coming back for more.